The funny man of circus never fails to make kids laugh their heart out. They will not think twice before getting prepared to draw the exciting character.
Step 1: Make a circle for the torso. An oval shape with another overlapping oval on top signifies the head. Draw intersecting lines as guides for facial features.
Step 2: Guides for the arms and legs are somewhat V-shaped lines terminating in circles and ovals respectively.
Step 3: Draw the outlines of the lower jaw, chin and ears.
Step 4: The guides aid attaining symmetry while sketching the eyes, round nose and a smiling mouth.
Step 5: The tufts of hair surrounding the ears resemble tiny clouds.
Step 6: Complete the head by drawing the hat.
Step 7: Give shape to the cute bow tie at the neck.
Step 8: Draw the frontal straps of his dress.
Step 9: Sketch the sleeves. Take care to detail the folds.
Step 10: Make a little part of the right arm visible before drawing the open hand with distinctly separate fingers.
Step 11: Similarly draw the left hand.
Step 12: Draw the loose-fit trousers buttoned at the end of the straps.
Step 13: The right shoe is now drawn. Notice the huge bulge at the front followed by 3 straps.
Step 14: Finish off by sketching the left shoe in a similar way. Erase all guides.
Step 15: Give it colors of your choice.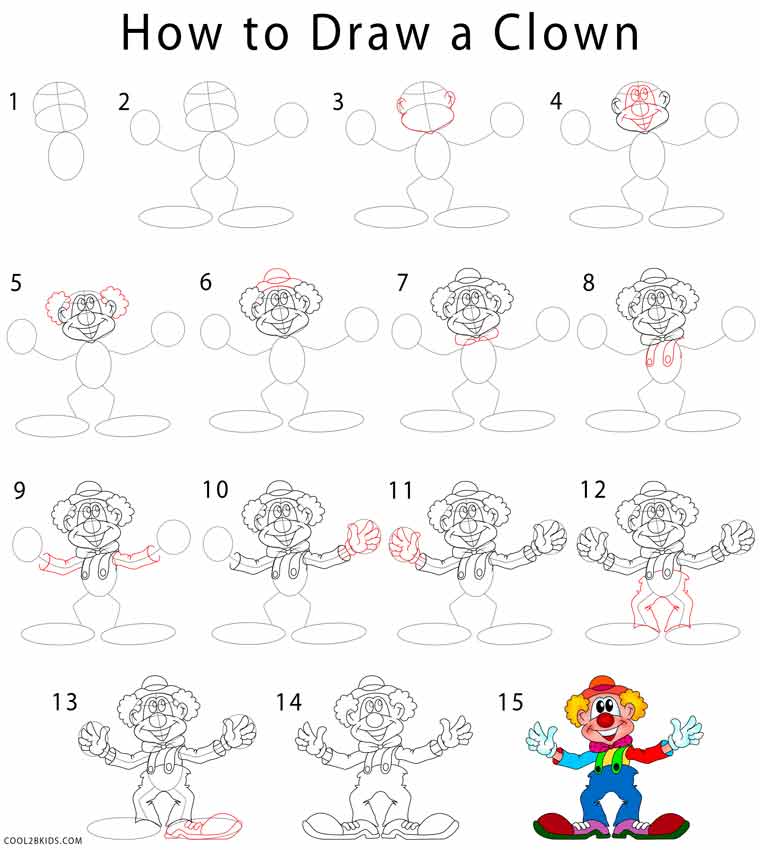 The clown looks flamboyant in his colorful attire and crazy face. Enough to make the little ones roll in laughter after finishing this.