Chibi, a term every manga fan is familiar with, refers to the wide-eyed, cute children you love in manga drawings. However the pictures are often pretty complicated with their detailed costumes and accessories. But as you must have found out by now, you can draw almost anything as long as you have a step-by-step instruction helping you along the way. So, here is an easy-to-follow instruction for drawing a chibi girl:
Step 1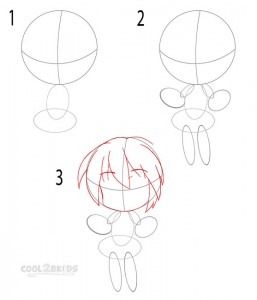 Begin with a large circle, followed by two smaller ovals for the body. As you have noticed, a chibi characteristically have a large head with a much smaller body.
Next, check picture 2 to add more ovals attached to the body for the hands and feet of your drawing.
Draw the thick, pretty hair as shown in picture 3.
Step 2
Make the facial features, using the curves made inside the 'head' circle to keep the eyes and nose in place.
Now, your chibi must have long flowing hair to make the drawing complete; just follow picture 5.
Step 3
Work over the ovals made in step 1 and replace them with a cute collared jacket, as shown in picture 6.
Next, draw the skirt of her frock, followed by the details of the jacket. (Picture 7)
Step 4
Now it is time to work on the sleeves of her jacket, using pictures 8 and 9 as your guide for the right and left sleeves.
Step 5
See picture 10 to draw your chibi's right leg covered in a long boot.
Next, do the same for the left leg. Also, check the picture to give the finishing touch to the eyes.
Step 6
This is the fun step as now you will be filling your picture with colors. Take picture 12 as your guide or use your own color combination skills as there are no color codes set for you.
Once you master the basic drawing, there are many things you can try. Attempt to draw a cute chibi boy, who can accompany the girl, by changing the clothes and hair. Or, try different cloth ideas to make a group of chibi girls.