A snake, though feared by children, never fails to inspire their awe due to its long, flexible and sleek body. The reptile keeps flicking its forked tongue in testimony to its dangerous trait of inflicting harm, even death, in some cases. You should be good at drawing curves to get this sketch perfectly.
Step 1: Draw a circular guide.
Step 2: Make a straight line and a curved one.
Step 3: Extend the curved line into coils.
Step 4: Sketch a pipe-like structure with the aid of the guide.
Step 5: Start detailing the head.
Step 6: Make an arch at the side of the head.
Step 7: Draw the eye and the thin, forked tongue.
Step 8: Detail the head with two more arches.
Step 9: Start giving shape to the body and the tail by drawing a coiled line.
Step 10: Double the line.
Step 11: Dot the head with tiny arches.
Step 12: Make a column of slightly bigger arches now.
Step 13: Now, it's time to dot the body.
Step 14: Continue by dotting the tail.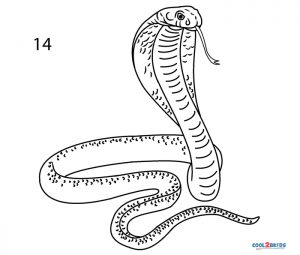 Step 15: Color the snake.
A green shade looks apt on the body of the venomous reptile. The red eyes and tongue spell danger. You might need a few trial and errors before you get the shape perfectly. Note that the small arches drawn in the latter steps are nothing but the scales on the body of the reptile.