The Venom is a popular Marvel Comics character that appears as the villain of the superhero Spiderman. Its muscular body, pointed teeth and large, menacing eyes make it an interesting object of drawing. The sketch takes the help of guides for shaping the elongated face. Only his broad shoulders and a part of his chest are visible.
Step 1: Draw a circle and an elongated structure below it.
Step 2: Make intersecting horizontal and vertical lines.
Step 3: Make curvy lines for the visible part of his muscular body.
Step 4: Detail his face.
Step 5: Make his curved, crooked eye.
Step 6: Draw the upper jaw and start making his pointed teeth.
Step 7: Shape the teeth of his lower jaw and the long, curved tongue.
Step 8: Sketch curved small lines on his forehead.
Step 9: Do it for the lower jaw too.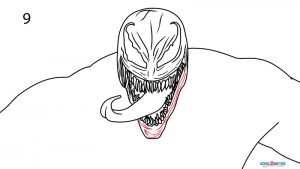 Step 10: Draw drops of saliva trickling down his mouth.
Step 11:Make branch-like structures above his shoulders and curved lines on his body.
Step 12: Shape veins on his body.
Step 13: Draw some smaller, branched veins.
Step 14: Make curved lines denoting his muscles.
Step 15:Color the sketch.
The tongue can be colored red with bluish-black for his body. The veins can be colored in lighter shades of blue. The evil nature of Venom is beautifully depicted in the sketch with his tongue stuck out and saliva dripping from his mouth. It cuts a picture of a character that is hungry for something. For creating more destruction, maybe.